Profile

Free Account
Created on 2009-05-02 13:20:12 (#212229), last updated 2017-04-04 (24 weeks ago)
6,125 comments received, 18 comments posted
6,231 Journal Entries, 594 Tags, 0 Memories, 15 Icons

About

Mini Bio
There are things that are important about me and things that aren't. Most of the time I'm not even the best at deciding what's what, but I figure that's the way life goes: Every day has the potential to teach you something new about yourself and every other person whose life arch intersects yours at times.
I have a tendency for the melancholy and shift toward depression. I am brutally honest in a lot of my writings, though I usually reveal things in half-truths. I sometimes post every single day, though I also tend to disappear for long periods at a time when I can't seem to find myself.
I have a BFA in Creative Writing, but I currently work in the Technical Support field for an ISP/Cable company. That's as much detail as I'll go into about that, although you may occasionally see me post about work in broad terms. I'm much more likely to post about work people than work things. This is to keep a boundary there. Most of the people I work with I tend to keep up with over at Facebook rather than in my journal habits.
I am an avid reader, though real life has kept me from reading (and writing) as much as I would like to as of late. I am especially fond of comic books, though I tend to prefer old school titles over the new ones. I believe that the best Marvel era was from the New Mutants/Excalibur era (the first runs of both series) and ended roughly around 2003. I think that AoA was the best alternate reality run. I love Runaways, but I stopped reading when they offed my favorite character.
I write fanfiction, and I RP. Again real life has kept me from these activities, but I'm hoping to rekindle both of them. I have and am willing to RP a vast number of characters from a multitude a fandoms.
For the most part, I post about my life and my friends and my games. I occasionally do very long posts in which I mock stupid current fashion trends. I can be fun and depressed and bored and lonely.
I am human, and I am still discovering all the myriad parts of me that make this elaborate jigsaw of my soul.
My Current Games:
After the Fall
, which is a spin-off from "All My X-Men" that features characters from there as well as characters pulled from other universes. Having escaped the clutches of Mojo, the kidnapped find themselves in a new world. They did not reach home as they had expected but have instead been dropped into another alternate world, in a future where mutants seem to have become non-existent. They are alone to fend for themselves.
Here I play AoA Alison Blair aka Dazzler, Other Betsy Braddock aka Psylocke, Other Illyana Rasputin aka Magik, Other Lance Alvers aka Avalanche, Other Marie-Ange Colbert aka Tarot, Ultimate Paige Guthrie aka Husk and Ultimate Rusty Collins aka Rusty.
My Former Games:
X-Men: Covenant
, which is the reboot of WX below. I played Betsy Braddock, Alison Blaire and Paige Guthrie.
Genetic Anomaly
where I played Illyana Rasputin aka Magik and another version of Paige Guthrie.
Evolution Unbound
where I played an Evo version of Paige Guthrie and Illyana Rasputin.
Excelsior
where I played Dagger and Arsenic.
X-Men: Still Standing
where I played Marie-Ange Colbert aka Tarot.
Generation X RPG
where I played Paige Guthrie aka Husk.
Ante Tempestas
, a Maurauders-era Harry Potter RPG, where I played Benjamin "Benjy" Fenwick, Riley Anne McGranahan and Evangeline Wilkes.
All My X-Men
where I played Ultimate Betsy Braddock aka Psylocke, Ultimate Rahne Sinclair aka Wolfsbane, AoA Paige Guthrie aka Husk, AoA Marie-Ange Colbert aka Tarot, Illyana Rasputin aka Magik, Alison Blair aka Dazzlers and Hope Abbott aka Trance.
As the Avengers Turn
where I played Tandy Bowen aka Dagger and Gert Yorkes aka Arsenic.
My Last.FM playlist:
Banners! All made by dragonfireicons on LJ:


Showing my Love:
Banners made by awkwardxgeek on LJ: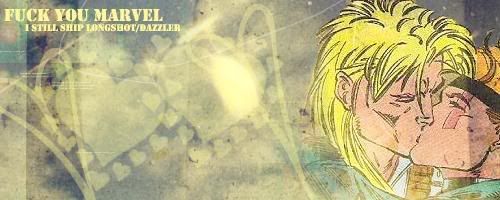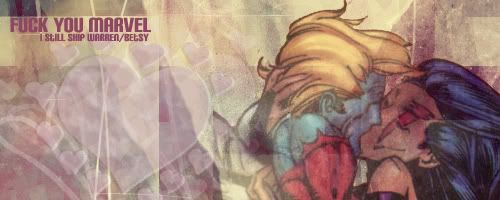 Banner made by crapnahalficons on LJ: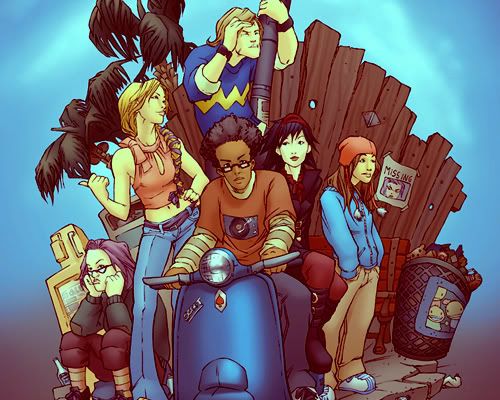 Connect
alpha flight
,
anthony stewart head
,
arsenic and old lace
,
barenaked ladies
, belle and sebastin,
better than ezra
,
black phoenix alchemy lab
,
books
,
buddhism
,
buffy the vampire slayer
,
chamber
,
chemistry
,
cloak and dagger
,
coffee
, comic book scholar,
comics
,
computers
,
cooking
, damien anderson,
damien rice
,
dar williams
,
dashboard confessional
,
discworld
,
druids
,
dublin
, duncan shiek,
edinburgh
,
emo
,
england
,
excalibur
,
exiles
,
fanfiction
,
final fantasy
,
firefly
,
francesca lia block
,
freedom of speech
,
gavin degraw
,
geology
,
gin blossoms
,
gir
, guthries,
husk
,
invader zim
,
ireland
, james hornby,
james joyce
,
james marsters
,
jason mraz
,
jimmy eat world
,
joxer
,
kay scarpetta
,
kill bill
, lamascos,
legion of super-heroes
,
libra
,
listening to music
,
lister
, literature anaylsis,
london
,
long island ice tea
,
lord of the rings
,
magik
, margaret cameron,
maroon 5
,
matchbox 20
,
matt dusk
,
matt nathanson
,
music
,
neil gaiman
,
new mutants
,
new orleans
,
one hour photo
,
online quizzes
,
patricia cornwell
,
penance
,
photography
,
poetry
,
poppy z. brite
, postmodernist literature,
reading
,
red dwarf
,
research
,
rimmer
,
runaways
,
sandman
,
scotland
,
shamanism
,
skin
,
spike
,
star trek: voyager
,
star wars
,
t.s.eliot
,
talkback
,
terry prachett
,
the breakfast club
,
the crow
,
the cure
,
the days
,
the endless
,
the x-files
,
thunderbolts
,
tori amos
,
ultimate x-men
, university of evansville,
van gogh
,
virginia woolf
,
w.h. auden
,
wales
,
wash
,
william butler yeats
,
writing
,
x-men
,
xena
,
yin yang

People
[View Entries]

[livejournal.com]
3petitsmots
,
aberabic
,
acepoet2005
,
acopyofacopy
,
atticus-rex
,
believeitup
,
bethos
,
bigeyedgirl
,
borednclueless
,
bpaladdict
,
chasing-muses
,
chickwithmonkey
,
clawfoot
,
color-me-sleepy
,
comedownstairs
,
conductor37
,
corde
,
crapnahalficons
,
dallowayward
,
darkangel32
,
darkswan-soaps
,
dharmarefugee
,
diab1e-b1anc
,
ditzcat
,
dontmakemeshoot
,
dragonfireicons
,
dreadpiratekurt
,
ebook-love
,
eldritch
,
elevenblue
,
elfinecstasy
,
fe
,
fightor-flight
,
firefox1490
,
flarra
,
fuzzytale
,
heathyr1158
,
hybridmistress
,
iconzicons
,
jamaillith
,
jeroenwing
,
jrhoffa
,
just-shai
,
kali921
,
kaylan
,
kcauac
,
laele75
,
lindslkt
,
little-halfling
,
lucky-starshine
,
luckystar37
,
lunchbox-red
,
mchobbs
,
mermaiden
,
minor-ramblings
,
miserableadmin
,
miss-katelynne
,
misslunakitty
,
mizzmarvel
,
montglanechess
,
nefariouscory
,
nehi
,
norachan
,
noyoki-sato
,
padfoot-uk
,
punk-at-heart
,
quingity
,
rayerai
,
rebeccasama
,
rxglitterpill
,
shes-not-there
,
starry-laa
,
tex-maam
,
teza
,
thelostmaximoff
,
theunicursalhex
,
timberwolfblues
,
tophatninja
,
tsylyst
,
voxmortuum
,
wesfanemt333
,
z-squared82

[users.livejournal.com]
confessional__

Communities
[View entries]

Member Of (2):

Subscriptions (4):

Administrator Of (0)

Feeds
[View Entries]

Subscriptions (0)

Linking
To link to this user, copy this code:
On Dreamwidth:
Elsewhere: